The publisher of the journal is included in the CrossRef register of member organizations.
We are pleased to announce that the Ukrainian State University of Chemical Technology has signed an agreement with CrossRef on the provision of DOI for scientific products of the University. The prefix of the publications of the University is 10.32434.
Accordingly, the collection of scientific papers "Computer Modeling: Analysis,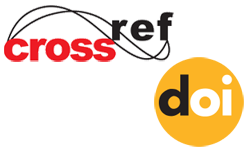 Control, Optimization" has the DOI index 10.32434/2521-6406.
Thus, starting from the second half of 2018, articles published in the journal will have the DOI index (eng. Digital Object Identifier), which is a serial number that is used for permanent and unique identification of objects of any type. DOI allows you to find a document even when its URL is changed, which can occur when the site, publisher, etc. change.
Benefits of a publication that has DOI:
This guarantees storage. Objects that have a digital identifier will always be stored at the registration location.
Digital Object Identifier is recognized by the world community of publishers and is a universal identifier.
The publication which received a digital identifier is immediately quoted on the Crossref website, as well as in the world scientific databases (World cat etc.).
According to the new order on the Order of formation of the List of scientific professional editions of Ukraine (order of MES №32 from 15.01.2018), each published material must have a digital identifier (item #6), to be included in the list.
A publication that has a DOI is much easier to cite and include in a bibliography, and it guarantees the reliability of the citation source.
In order to check the presence of a digital identifier in the publication, or to include the publication in your list of references, you need to go to the site DOI.org or Search Crossref.
Collection of scientific papers "Computer Modeling: Analysis, Control, Optimization" invites authors to cooperate!