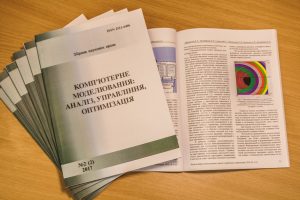 The scientific journal "Computer Modeling: Analysis, Control, Optimization" (hereinafter referred to as Journal) publishes the results of research in the field of information technology.
Its founder is the State Higher Educational Institution "Ukrainian State University of Chemical Technology" of the Ministry of Education and Science of Ukraine.
The Journal was registered on 28.02.2017 by the Ministry of Justice of Ukraine as a printed media (certificate КВ № 22571-12471Р).
The Journal is published in Ukrainian, Russian and English.
The editorial staff of the Journal invites all students, postgraduates, doctoral students, applicants, young specialists, lecturers, researchers and other interested persons to publish their articles and review works related to theoretical and applied questions of system modeling and applied problems related to use of computer modeling methods.
The articles are selected by criteria of novelty and relevance of the subject.
In order to ensure free access of the world scientific community to original research, articles are posted on the website of the Journal.
The editorial staff of the Journal is actively engaged in ensuring the representation in the leading libraries of Ukraine and the world, inclusion of the Journal in international bibliographic databases.
"Computer Modeling: Analysis, Control, Optimization" is an open access journal. It means that all of its content is free for user or his/her institution. Users are allowed to read, download, copy, distribute, print, search or make links to the full texts of articles in the Journal without direct permission from the publisher or author. It  corresponds to the rules of Committee on Publication Ethics (COPE), Budapest Open Access Initiative (BOAI) and Berlin Declaration on Open Access to Knowledge in the Sciences and Humanities.
Copyright for printed materials belongs to authors.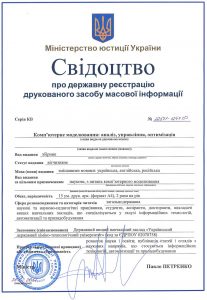 Reception of articles for the journal: daily.
Schedule of publicatios: twice a year.
ISSN (Print): 2521-6406
ISSN (Online): 2617-6092
Transliterated title in Ukrainian: Komp'ûterne modelûvannâ: analìz, upravlìnnâ, optimìzacìâ.
Abbreviated key title: Komp'ût. model.: anal. upr. optim.
The mass-media registration certificate: КВ № 22571-12471Р from 28.02.2017.